We are a book reading family. Jon would read from daylight to dark if we'd all stop bothering him, and Nicholas reads from daylight to dark even though we do bother him. We enjoy having a family read-aloud going which means that I read while the family listens. We've read dozens of books this way – the entire Little House series (more than once), Kon Tiki by Thor Heyerdahl, The Three Musketeers, Tree Castle Island, and so many more.

I was happy to receive the opportunity to review three books from Salem Ridge Press, a Pennsylvania publishing company founded by homeschool graduate Daniel Mills. Salem Ridge Press does not publish new books – they reprint books that were originally published in the 1800s and early 1900s. If you've taken a trip to the library with your children or grandchildren lately, you've undoubtedly seen some of the garbage that passes for reading material these days. (Just as a quick example, my son brought home a fiction book about Vikings that has a main character called Bullshik. Great literature, huh?)

All of the books from Salem Ridge Press are carefully read by the Mills family and chosen based on their moral values. In Daniel Mills' own words: "While not every title that Salem Ridge Press publishes is explicitly Christian, all of our titles have strong moral values and encourage positive character."
Most of the books at Salem Ridge Press retail for $12.95-$14.95 for softcover and $22.95-$24.95 for hardcover. The books I received are softcover, and they are a very high quality. They measure about 8.5″ by 6″ with glossy covers and good, thick pages inside. They are not your average paperback. Salem Ridge books are available from major retailers, such as Amazon and Barnes & Noble, as well as small businesses run by homeschool families. You can find a complete list of retailers at the Salem Ridge website.
---
The American Twins of the Revolution by Lucy Fitch Perkins
From the Salem Ridge Press website:
General Washington has no money to pay his discouraged troops and twins Sally and Roger are asked by their father, General Priestly, to help hide a shipment of gold which will be used to pay the American soldiers. Unfortunately, British spies have also learned about the gold and will stop at nothing to prevent it from reaching General Washington. Based on a true story, this is a thrilling episode from our nation's history!

Story Setting: The Revolutionary War in 1777
Originally published in 1926; 204 pages; For Ages 8 – Adult

Lucy Fitch Perkins (1865-1937), was a popular American children's author and illustrator in the early 1900's.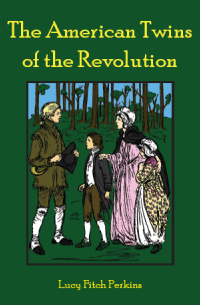 This was the first book we read after receiving our shipment, and our entire family thoroughly enjoyed it. Knowing that it is a true story made things all the more exciting. My boys were amazed to know that two children not much older than they had truly gone through such a dangerous adventure. I don't want to spoil the suspense in case you decide to buy it, but suffice it to say that it's a very well-written book and turned into a real page turner as the story went on. We read the final nine chapters in one sitting because we were all so interested in what would happen next. Even four-year-old James sat and listened.
Our favorite character from the book is Aunt Hittie, whose dialogue is written in her "colloquial dialect." We loved one of the first things she said when she was talking to the children, Sally and Roger. It went something like this: "I was 'roun' heah when yo' was nuthin' but red-faced no-count babies." For some reason, we all found that absolutely hilarious and have been calling each other no-count babies ever since. Her accent can be a little difficult to read at times, but once we deciphered what she was saying, we all loved repeating it. This made the book more fun than the usual read aloud, and we laughed a lot while reading Aunt Hittie's comments.
---
Glaucia the Greek Slave: A Tale of Athens in the First Century by Emma Leslie
From the Salem Ridge Press website:
After the death of her father, Glaucia is sold to a wealthy Roman family to pay his debts. She tries hard to adjust to her new life but longs to find a God who can love even a slave. Meanwhile, her brother, Laon, struggles to find her and to earn enough money to buy her freedom. But what is the mystery that surrounds their mother's disappearance years earlier and will they ever be able to read the message in the parchments she left for them?

Story Setting: Athens in 59 – 64 A.D.
Originally published in 1874; 270 pages; For Ages 10 – Adult

Emma Leslie (1837-1909), whose actual name was Emma Dixon, was a prolific Victorian children's author who wrote well over 100 books. Emma Leslie brought a strong Christian emphasis into her writing and many of her books were originally published by the Religious Tract Society.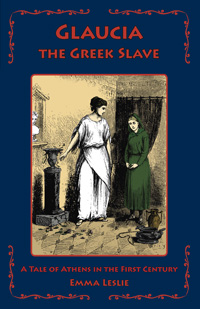 This book is geared toward older children (teens) and adults, so we didn't read it aloud but I read it myself. I had never read a book set during this time period (mid first century) or in this place (Rome and Athens). Though I know somewhat about Roman and Greek culture from public school and certain movies, I can honestly say that I know very little about life during that time. Reading Glacia the Greek Slave was like stepping back in time and experiencing a way of life I had never dreamed about.
Just like The American Twins, Glaucia is a very well written book. The characters come to life within the pages, and I found myself hurting right along with them as they struggled through the fears of separation, slavery, and danger to their very lives. It was very intriguing to see the Apostle Paul take a small role in the story. The story of Glaucia takes place during the time that Paul is under house arrest in Rome, and Glaucia's brother, Laon, actually visits Paul and talks with him briefly. It is fascinating to witness the slow exposure that Glaucia and Laon have to the Christian faith. Thoroughly Greek in their beliefs and their devotion to Athena (called Pallas Athene in this book), the idea of a single God who is creator and ruler of all things is very strange to them at first. Watching the struggle of the Greek and Roman Christians in this book, as they face the objection and anger of family and friends, opened my eyes in a new way to the life of the early Christian church.
I enjoyed this book so much that I started it on a Thursday and then stayed up until 2am Friday night to finish it.
---
Mary Jane – Her Book by Clara Ingram Judson
From the Salem Ridge Press website:
This story, the first book in the Mary Jane series, recounts the happy, wholesome adventures of five-year-old Mary Jane and her family as she helps her mother around the house, goes on a picnic with the big girls, plants a garden with her father, learns to sew and more!

Originally published in 1918; 183 pages; For Ages 6 – 10

Clara Ingram Judson (1879-1960), was a popular American childrens' author who wrote over seventy books.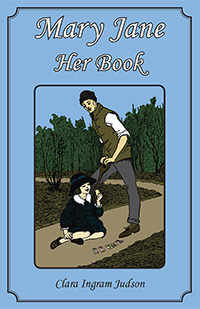 My husband read Mary Jane to us, and I can say that it was a sweet story of a little girl and her life. However, since we're a houseful of boys, the story didn't interest the family as much as other books have. If you have a little girl, I'm sure she would love the story of Mary Jane, her sisters, and the fun things she does with her mother and father. I asked my seven year old what he remembered about the book, and he said:
I thought it was cute how excited she was about getting a new doll. And I liked that she named it Marie Georgiana More because a twin is more.
So even though my boys prefer hearing stories about maurading armies, Mary Jane was still memorable for them, and I just know little girls would enjoy it even more.
I can't recommend Salem Ridge Press enough. If you care about the morals of the books your family reads, if you enjoy good literature, if you like old-fashioned values and learning about life in other times, you will love the books from Salem Ridge Press. Go check them out!
© 2008 – 2012, Cindy. All rights reserved.