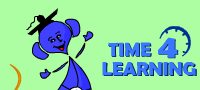 Do you struggle to make lesson plans for your homeschool? Do you ever wish you had something pre-planned that you could turn to each day? A curriculum you didn't have to organize or find storage space for? Do you like the idea of computer-based studies for your children?
If you answered yes, Time4Learning might be right for your family.
Time4Learning is an online educational program that includes math, language arts, science, and social studies for preschool through eighth grade. It can be used as a stand-alone curriculum or as a supplement to your other studies. Some families with children in public school also use it as a supplement for enrichment or remedial work or to keep up-to-task during summer break.
Time4Learning is available worldwide, which is a big plus for American parents living overseas where print curricula can sometimes be hard to find.
While divided by grade level, the program follows each individual student's pace. Parents initially choose which level their child needs to use, but the level can easily be moved up or down according to the child's progress and needs. Especially beneficial is the fact that each child can use different grade levels for each subject. If your child is a gifted reader but takes a bit longer to learn mathematics, no problem! Time4Learning can be tailored to his specific needs.
We've been trying Time4Learning on the preschool level for James and the third grade level for Nicholas. Each boy has his own login and, upon logging in, can make a selection from available subjects. For example, James can choose from Language Arts, Math, Science, or PlayBox Theme Time. In each subject, they can choose between various topics.
After completing a certain number of lessons, they are allowed to click on the Playground and play fun games. If the child clicks on Playground before doing the required lessons, a message comes up which says something to the effect of, "You must complete your lessons before you can play." It's a great incentive to get kids to finish their lessons without complaining (hopefully!).
Even the lessons themselves are fun with animated portions and talking characters. One section on the earth has a boy and girl talking and digging into the ground, asking each other questions about the crust and the water cycle. (My four year old just said to me, "Here's how the water goes…it evaporates, and then it does something, and then it turns into clouds, and then it turns into rain clouds!")
The Time4Learning system records each lesson that a child completes. Parents can log in and view the lessons the child has completed and how well the child has done on each lesson. The program can be started at any time during the year – there are no set start and stop times or semesters.
Here is a bit of information from Time4Learning about how the program will work:
Many children like using the computer to learn. Time4Learning is a premier online learning resource which combines a fun interactive approach while systematically covering the curriculum. Since there is no way to be sure what will work for each child, we provide a two week money back satisfaction guarantee so you can try us risk-free. Also, Time4Learning has a cancel-at-any-time policy: there is no long-term contract. Time4Learning has helped thousands of children, why not yours?
The cost for Time4Learning is $19.95 per month for the first child and $14.95 for each additional child in a family.
While I don't personally like the idea of grade school age children using a computer for all their schoolwork, I do think that Time4Learning makes a fun supplement for any family that can afford the monthly cost. Nicholas and James both have viewed their time on Time4Learning as fun-game-time, not lesson time. I've never had to tell them to do it – they've always asked to do it.
I also think that in the case of teacher (mommy) illness, a new baby, a household move, or some other major event that makes it difficult for mom to prepare lessons and teach the child the way the family would like, Time4Learning would be a great bridge to keep the children learning during the temporary situation. I wish I had known about it when I was pregnant with Robert and for the first few months of his life. It would have been very helpful and useful to us then.
© 2008 – 2009, Cindy. All rights reserved.