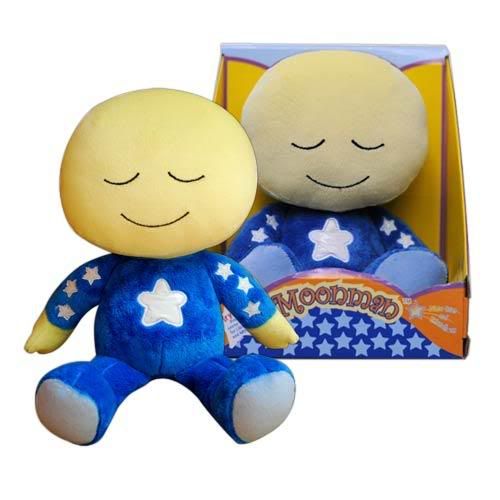 Most little ones like stuffed animals, and my kids are no exception. I was delighted to receive a Moonman lovey from ee publishing to review. We gave him to Robert for his first birthday, and I must say little Moonman has been well loved over the last month.
Moonman is about 12″ high when seated, and he's a floppy, fun little guy. Soft and huggable, he has a little button in his chest that will cause a little tune to play and his head to light up. Every time we press the button, Robert's face lights up and he grins happily all the time the song is playing. It's sweet to see how much he enjoys it.
The ee publishing website calls the song a "sleepy luvaby," but I don't personally think it's very sleepy sounding. It's more of an upbeat tune than a dream-inducing one. I don't mean that we don't like it, just that it's more appropriate for playtime than bedtime.
I'm happy to report that the customer service from ee publishing is quick, friendly, and efficient. Just about a week after we gave the Moonman to Robert, he stopped playing any music. No matter how I fiddled around with it, the light wouldn't come on and the music wouldn't play. I sent an email to their customer service and received a response the same day. After making sure I'd already tried changing the batteries, Elena and Elizabeth put a brand new Moonman in the mail for me. He arrived only about a week after the first one broke.
I'm confident that the problem with our first Moonman was an isolated incident. Elena wrote to me that they've had no other reports of the music and light not working after a time. I'm only sharing it with you to let you know what nice customer service they offer.
Our Moonman arrived with a book titled Nana Star and the Moonman by sisters Elena Patrice and Elizabeth Sills with pleasant illustrations by Linda Seeker. In it, Nana Star finds herself feeling lonely and afraid when she is trying to return a lost baby star to its home. She is encouraged by the light and voice of the moonman who tells her that she's never alone because he'll always be watching over her.
While I prefer to teach my boys that Jesus is our "very present help in time of trouble" instead of relying on imaginary creatures for comfort, this book may be a nice fit for other families.
The Moonman lovey is available for $19.99, and Nana Star and the Moonman is $15.95. Both can be purchased from the ee publishing website.
© 2009, Cindy. All rights reserved.