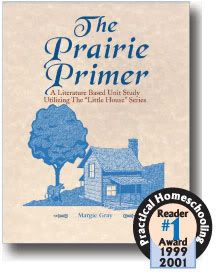 Many years ago, I fell in love with the Little House on the Prairie television show. I'd tape it everyday and then watch it when I got home from school. It was so bad that I bought a couple bonnets while visiting Amish Country in Ohio and I'd wear them while watching the show. (Boy, did my dad laugh at me! I won't tell you how old I was because then you'd laugh at me too.)
Because of my love of the television series, I started reading the Little House series of books written by Laura Ingalls Wilder. It didn't take long before I realized that the books (being true) were much better than the tv show. Now I can hardly stand to watch the show, but that's another issue.
Imagine my excitement when I received a unit study curriculum based on the Little House series. Let me tell you a bit about how Prairie Primer from Cadron Creek works.

Prairie Primer, written by Margie Gray, is a literature-based unit study, which means that the lessons revolve around the topics found in a certain literature book and that they cover history, science, physical education, art, writing, music…virtually every subject except math, phonics, and grammar. (Sometimes you'll find a little math in unit studies as well – it's just never enough to form an entire math curriculum.) I have always used unit studies (Konos Curriculum) with my kids, but this is the first literature-based unit study I've had the opportunity – or privilege as it turned out – to use.
What does it look like?
Prairie Primer is a concise one-volume softcover book. It's divided into nine sections – one for each of the Little House books. We started at the beginning with Little House in the Big Woods, one of my personal favorites in the series.
Each section is divided into weeks, and each week has a planning guide which lists topics that will be covered that week, suggested resource books to get from the library, audio recordings that can supplement the study, items needed for activities, suggested videos, and field trip suggestions. It's easy for Mom/Teacher to look at the weekly Planning Guide and see everything she needs to gather for the week.
There is also a unit 'overview' at the beginning of each section which gives information that will be taught/covered throughout the unit. Background information on the history of both the Ingalls family and the United States is included in the overview. Group Activities are suggested here – for example, a Gold Rush party at the end of the Little House in the Big Woods study. Mrs. Gray also includes General Activities here – these are activities that will take most of the unit to complete. The general activities may include things like memorizing a chapter from the Bible and reading a related biography aloud as a family.
Each week's lessons are divided by days, and each day begins by reading one or two chapters (depending on length) from the Little House book. Reading comprehension and discussion questions are then given. This was one of our favorite parts of the study because it lent itself very well to discussing the related history and Bible applications. If you've read Little House in the Big Woods, do you remember Charlie and the yellow jackets? We had quite a few good discussions about that!
Sprinkled throughout Prairie Primer are worksheets and maps related to the books. In the Little House in the Big Woods section was a worksheet for putting the steps for making butter into their proper sequence. Do you know what the first step is?
What topics are covered?
When I first heard that I was going to receive Prairie Primer, I assumed that the studies would be limited to what is written in the Little House series. I couldn't have been more wrong! Mrs. Gray has done a fantastic job of using Mrs. Wilder's stories to draw lessons from an enormous range of topics.
For week one of studying Little House in the Big Woods I saw that I needed to gather books on the California Gold Rush. I couldn't begin to understand why. Having read the entire series at least six times, I knew beyond a shadow of a doubt that the Ingalls family never panned for gold and I knew that Big Woods didn't even have them visiting with anyone who might have been a gold prospector.
In the last chapter, Pa sings one verse of "Oh, Susanna" to the girls. Since the gold prospectors sang their own version of "Oh, Susanna" Prairie Primer uses Pa's singing as an opportunity to study the California Gold Rush. This is just one example of how Mrs. Gray ties numerous subjects into the unit study.
(As a side note, we threw our own spin on things by following our learning about the California Gold Rush with learning about coal mining. Since we live in a state that has been characterized by coal mining throughout its history, I thought it would be beneficial for the boys to learn about it. We found some fabulous books that I hope to share more about someday soon.)
Prairie Primer effectively covers history, science, practical living, vocabulary, nutrition, Bible (especially memorization), and more. Math, grammar, creative writing, and penmanship are also included but parents will want to use other curricula as well. Prairie Primer isn't intended as a complete language arts or math curriculum.
Many of the activities are hands-on, which is so important when teaching elementary aged children. One of our favorite activities was making molasses on snow candy just like Laura and Mary did when they were little girls. Unfortunately, we had blackstrap molasses which nearly killed me when I took a bite. So we improvised and poured maple syrup on snow instead. It was very tasty.
What About Purchasing Supplies?
It's always a concern for homeschooling parents, when looking at a curriculum, to know how much extra money they can expect to spend on books, supplies, and other items needed to use the curriculum. Prairie Primer is good news in that department. Very few or no additional supplies are essential to using the program.
Most supplemental books (such as those on the gold rush, about bears, biographies, etc.) can be found at the library. I have access to only two relatively small libraries, but I was able to find nearly every books Mrs. Gray suggests. This is actually surprising because I usually can't find any books that a curriculum suggests. The great thing, however, is that if you can't find the suggested books – it doesn't matter! Any books on the topic will work just as well. There are no book-specific questions or activities.
A few books directly relating to the Ingalls family and the Little House series are used frequently throughout the volume. Those books are:
The Little House Cookbook by Barbara M. Walker
The Laura Ingalls Wilder Songbook by E. Garson (out of print)
Laura Ingalls Wilder Country by William Anderson
The Bible is also used everyday, but hopefully you already have one of those!
I was fortunate that my local library has a copy of The Little House Cookbook, and I believe many others have it as well. Some families may want to consider purchasing these books even if their local library has them, and Cadron Creek Publishing offers both The Little House Cookbook and Laura Ingalls Wilder Country. Owning the books is not essential, however.
What ages will enjoy Prairie Primer?
Prairie Primer is written for grades three through six, but it can be used successfully for both older and younger students. James, who is just four years old, enjoyed doing the activities with us and listening to the read-alouds. There are many activities suggested for each chapter, but it would be hard for one family to do them all. Parents can pick and choose which activities are best suited to the ages and interest of their children.
Is it just for girls?
My boys have always enjoyed the Little House series since I've been reading the books aloud to them since they were babies. It never occurred to me to think that they would not enjoy a unit study based on the series, but I understand that other parents have had this question. Since the Little House books are about girls (Laura, Mary, Carrie, and Grace), would boys really be interested?
The answer is a big yes! The topics covered in Prairie Primer include many that boys will love such as tracking animals, horses, hunting and fishing, guns, nature, and moccasin making. The only "girl" type activities are beadwork, candle making, knitting, and quilting. Of course, boys can enjoy those too! Both of my older boys have asked me to teach them to knit…they just won't sit still long enough to learn.
The majority of the studies in Prairie Primer are gender neutral – history, literature, health, Bible study and memorization, biographies, and family relationships for instance.
How long does it take?
The daily activities can take as long as you want. We spent about two hours a day reading the Little House chapter, discussing it, reading supplemental books, and doing activities. Sometimes we would spend more time on it depending on the activities we were doing.
Studying each book in the series takes approximately a month. There are four weeks of lesson plans. You may decide to take an extra week to wrap everything up.
Prairie Primer will take an entire school year to complete. The lessons themselves cover a full nine months.
How much does it cost?
A softcover copy of Prairie Primer is available from Cadron Creek Christian Curriculum for $50. You can preview chapters and activities from the volume on the Cadron Creek website.
© 2009 – 2013, Cindy. All rights reserved.