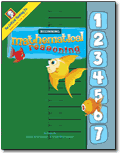 James will be five years old near the end of April and has been showing more and more interest in "school" over the last couple months. He's always joined Nicholas and me during our lesson times because…well, what else was I supposed to do with him?
Two items that have helped spark his interest are workbooks from Critical Thinking – Building Thinking Skills Beginnings and Mathematical Reasoning Beginnings. It has been fantastic and encouraging to see James' eagerness over both of these workbooks. At first he would ask me everyday, "Can we do my books?" and we'd work in them maybe once a week. A few weeks ago, we started using them each day as part of our morning school routine. I'm happy to say that the novelty has not worn off – he's still thrilled to use them each and every day.

Mathematical Reasoning Beginnings is designed for ages three and four and is filled with bright colors, lively drawings, and friendly cartoon-style animals and people. Topics covered are:
counting
identifying
matching
ordering
position
comparing & estimating
addition
patterns
This book, just like the other Critical Thinking books I have seen, is so far beyond the standard discount store workbook that there is no comparison. The quality of the book itself is excellent, and the quality of the material within leaves nothing to be desired.
I have seen James go from being able to correctly identify only circles to knowing circles, squares, and rectangles but consistently calling triangles "squares" to correctly and consistently naming all four basic shapes – in just two months! Now I realize he's nearly five, and most children can name their shapes by that age anyway – but James has been an unwilling learner.
As I shared in my review of All About Spelling, he's the kind of child who will purposely give the wrong answer just because he finds it amusing. (Find the block quote near the end of the All About Spelling review if you'd like to read a funny story about his shenanigans.) When he was 2 1/2, and I would begin to say the alphabet and ask him to repeat each letter, I'd say, "A" and James would say, "No."
Thanks to Critical Thinking (and All About Spelling and Spears Art Studio, his other two favorite "school time" activities), James' attitude about learning has changed. He wants to do it now – he asks to do it! Any curriculum or workbook that can do that for a child is a winner.
Critical Thinking offers a wide range of workbooks and computer software for all ages. Their materials can be used as a full curriculum or as a supplement, which is how we're using them. I have my eye on a several of their products:
Don't those sound like fun? Mathematical Reasoning Beginnings has been expanded into Beginning 1 for three year olds and Beginning 2 for four year olds. Either can be purchased for $29.99 and should provide a year's worth of math fun…I mean, lessons!…for your preschooler. The original Beginnings that I have used is currently on sale for $24.99.
To see Critical Thinking's other learning tools, visit their website where you can request a print catalog. I've had the best time browsing through mine.
If you'd like to read reviews of the other Mathematical Reasoning levels, visit The Homeschool Crew Blog.
© 2009, Cindy. All rights reserved.