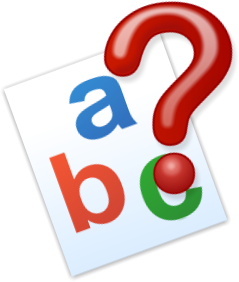 Once again thanks to The Old Schoolhouse Crew, we're trying a new tool to help with spelling that I'd like to share with you today. SpellQuizzer is a computer program with a simple purpose – to help students practice their spelling words.
Are you a good speller? A natural speller? I love to read, but I was a poor speller in school. In eighth grade, I took one of those standardized tests that give results in "percentile." I scored 98 or 99th percentile in every category except spelling. In spelling, I scored 35th percentile. It's taken me many years (and lots and lots of typing and writing) to become a good speller. Now I have only a few words that I have trouble remembering how to spell. (Maybe I should practice them on SpellQuizzer.)
I can remember my mom going over my brother's spelling lists with him in school. She'd say the word, and he'd spell it. If he got it wrong, she'd repeat the word. If he got it right, she'd just say the next word. I have found myself using the same inflection and style when I quiz Nicholas on his spelling lists as part of the All About Spelling program. Of course, Nicholas writes his words on paper whereas my brother spelled his words out loud since he was practicing for a test to take at school.
Anyway, it's a somewhat time consuming process for us. I say the word, phrase, or sentence, and then I wait while Nicholas writes. It can take a half hour sometimes to go through the whole list. The best part of SpellQuizzer for my family is the time saving factor. I can input the entire list of words, phrases, and sentences into the program in about ten minutes. When it's time for Nicholas to write them, he listens to the recordings, writes and types each word…and I'm free to do something else.

How SpellQuizzer Works
In addition to the SpellQuizzer software, you'll need a microphone and speakers. (These are actually optional, but having them is the ideal way to use the program. I'll explain what happens if you don't have them below.) The program does come with preset pre-recorded spelling lists, but it is designed to be used with the student's own spelling lists. No matter what spelling curriculum your student uses and no matter if your student is in public school or homeschool, SpellQuizzer can be used and will be beneficial.
The teacher, or student if you prefer, inputs each word into the program and records and audio of the word. (That's where the microphone comes in, of course. Our laptop has a built-in microphone.) The input screen looks like this:
After typing the word, the teacher or student clicks the "Start" button, says the word aloud, and then clicks the "Stop" button. The cursor automatically returns to the "Word to add:" box, so it's very quick to simply type the next word. The first night that I recorded word lists, my husband said each word after me with a very thick southern drawl. Both Nicholas and James thought it was hilarious, and they wanted to get in on the act too. They took turns saying the words "southern," and when it came time for Nicholas to practice that spelling list…well, let's just say he laughed as much as he spelled.
When the student is practicing the words, the process is very simple. A small box shows a space to type the word, and a "Play word" button can be clicked to repeat the word as many times as the student needs. If the student spells the word incorrectly, a prompt box appears saying, "Sorry, that was incorrect." The correct spelling is given as well as the spelling that the student entered. The student is given a chance to repeat any missed words at the end of the session.
What if I don't have a microphone or speakers?
Though SpellQuizer works best if you have a microphone to record the words and speakers to play them, it will work without them as well. A reminder phrase can be entered to take the place of the audio recording. For example, if the spelling word is vehicle, the reminder phrase could be, "Dad must get our _______ inspected each year." Or you may use the word's definition instead. Of course, most sentences or definitions could apply to more than one word – therefore, the student would need to be familiar with the entire list of spelling words before beginning.
I can see where this method would be more time consuming and may sometimes be confusing to the student, but it is still workable.
My consensus: I like it!
All in all, I like SpellQuizer very much. It saves me time in quizzing Nicholas on his words, and he has fun listening to the recordings. I think he also likes being given exclusive use of the laptop almost everyday – even if it is for school use.
You can try SpellQuizer for a free 30 day trial period to see how you like it by going to the SpellQuizer Download Page. The permanent license can be purchased for $29.95.
© 2009, Cindy. All rights reserved.