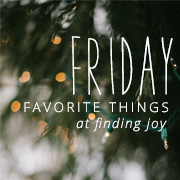 My sweet friend Rachel runs a weekly meme called Friday Favorite Things. I'm not nearly so good at taking pictures as she is, but I thought I'd jump in this week. Here are my favorite things from the past week . . .
sitting on the front deck with my family on cool evenings . . .

. . . with the Off Mosquito Coil burning (smells nice and really works)
. . . looking up at the stars and listening to the boys discover their own constellations

a glass of tea cooled with Eastern Ice and sweetened with Sweet N Low – It has to be all three, or it's just not as tasty.
the smell of fresh spearmint
a visit from my parents along with plenty of joking, teasing, and witty comments
having the windows open to let in fresh air and breezes
watching Robert push his bubble mower behind Jon as he mows the yard
the smell of fir when Jon trimmed our bushes – It drifted through the open windows and made my living room smell so nice.
the essential oils my sister sent us – mmm! We have been like drug addicts sitting around breathing deep, deep because the blend of oils smells so incredibly good.
spice cake for my birthday
discovering natural, healthful remedies for what ails us . . . such as peppermint, chamomile, oregano, blackstrap molasses, and lavender
I hope your week has been filled with plenty of favorites and good times too!
© 2012, Cindy. All rights reserved.